Consultations with Daria Geyler

Daria Geyler

Personal consultation with an expert

Book now
What to expect?
Book an hour session with a top expert as your personal mentor! Personal advice for those who are starting to professionally decorate objects, and spaces, as well as for those who start their own business or company.
This is a great opportunity to discuss your plans, and current projects and make decisions on your next steps, to see yourself through the eyes of an experienced decorator, successful entrepreneur, and speaker.
Cost of consultation *
$149 – 60 min
* You get a link to the available slots in the expert's schedule after payment and sign up for any time convenient for you. Meetings are held on Zoom.
You can reschedule if necessary. If you miss an appointment or cancel less than 12 hours in advance, payment is non-refundable.
Mentor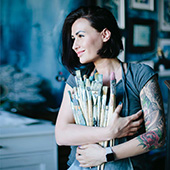 Daria Geyler
Daria Geyler is an entrepreneur and founder of a brand of paints and materials for home decoration.
Writer, artist, and object decorator. Author of the book "I see the goal, I go to it."