PORTFOLIO REVIEW

Maria Pokrovskaya

Personal Consultation

Book now
What to expect?
Sign up for the Personal Consultation to design your successful Creative Portfolio and CV to apply for Higher Education.
As part of an hour-long personal consultation, you will receive detailed criticism, questions that applicants will most often receive during interviews, and specific practical recommendations. This is an opportunity to see your CV/resume, works, or portfolio as an object of your design through the eyes of an experienced teacher, rethink and strengthen them for successful admission.
You are free to talk in Russian or English.
Personal Consultation cost *
$99 — 60 min
* Meetings are held on Zoom. After paying, you receive a link to the available slots in the schedule and sign up for any time that works for you.
You can reschedule if necessary. If you miss an appointment or cancel less than 12 hours in advance, the payment is non-refundable.
Mentor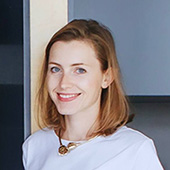 Maria Pokrovskaya
Maria Pokrovskaya conducts consultations, co-founder of Artclever, graduate of the Moscow Architectural Institute (2011); Teacher and Curator of the Foundation and Undergraduate Programs (BA1) at the Architectural School MARCH (London Metropolitan University, until 2021); visiting professor at COMPOSTELA School of Architecture (Spain); 1st EdCrunch Award Winner; Partner of the International Research Program MOVING BOUNDARIES (Neuroscience applied for Architecture); speaker.
Maria constantly takes part in the jury of student competitions.
Maria currently lives and works in the U.S., having obtained an O1 Outstanding Creatives visa.