Course Description
The «Decorator» course refers to the author's experience of Tina Khabarova. The program reveals the secrets of the interior decorator profession, focusing on a fine line between interior design, decoration, and styling. The course is perfect for both beginners and those who want to make their home attractive and cozy, focusing on details.
The program includes 4 modules of lectures, workshops, and practical tasks.
You will learn more about decorator's tools and instruments that are essential for creating a residential interior. At the end of the course, students will do their own project of decorating a residential building or public space.
Lecturer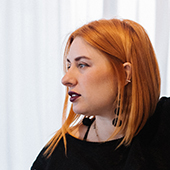 Tina Khabarova
Tina Khabarova (@tinahabarova) — a designer-decorator with over 10 years in practice. Tina is an expert in TV programs; the author of articles on Houzz; a professor at Seasons School; a presenter of the author's master classes and educational lectures.
Tina studied at the Russian Academy of Law and Makhi. She completed more than ten different courses and intensives in the field of interior design and decoration. Tina creates new scenarios, atmospheres, and lifestyles in residential interiors using decorating techniques. The author holds consultations on finished interiors. Tina is also the author of the blog about creating a dream house @tinahabarova
Course Program
Module 1: Introduction to the «Interior Decorator» profession

1.1. Professional fetures

1.2. Decoration services and price setting

1.3. Target audience and customers search

1.4. Team and cooperation

1.5. Action plan and development paths

1.6. Reference list and knowledge sources

Module 2: Decorator tools

2.1. Space zoning

2.2. Composition and proportions

2.3. Optical illusion in the interior

2.4. Coloristic map, color combination in interior

2.5. Interior styles and mixing patterns

2.6. Ceiling as the fifth wall

2.7. Walls/ furniture/ details coating

2.8. Light, scenarios

2.9. Furniture as a decoration element

2.10. Textile and cozy elements in interior

2.11. Interior floristics

2.12. Interior details and functional decor

2.13. Emotional interior design, atmosphere, and interior character

2.14. Natural interior decor

2.15. Talking interior decor

2.16. Humor and decor

2.17. Art pieces, vintage, and antiques

2.18. Items duplication

2.19. Internal and external corners in interior design

2.20. Photos/ pictures/ posters hanging

2.21. Vignette and horizontal surfaces

2.22. Racks and shelves filling

2.23. Visual noise

2.24. Seasonal interior trends

2.25. Hoiday decoration

2.26. Trends

Module 3: Rooms decoration

3.1. Hallway

3.2. Living room

3.3. Kutchen and dining room

3.4. Bedroom

3.5. Kids' room

3.6. Bathroom

3.7. Study/ Office room

3.8. Balcony

3.9. Public space: cafe/store/beauty salon/showroom

Module 4: Interior decoration project in steps

4.1. Programs for project creation

4.2. Technical specifications and inputs.

4.3. Interior concept, style, and atmosphere

4.4. Color palette, base, and accents

4.5. Space features and decorative techniques

4.6. Focal points, and storage zones

4.7. Basic and additional furniture

4.8. Light and scenarios

4.9. Textile and cozy details

4.10. Seasonal accents in interior design

4.11. Decor and accessories

4.12. Plants, natural and organic elements

4.13. Household items and recommendations on created concept maintenance

4.14. Project design for the customer. Collages and additional materials

4.15. Bonus: project implementation
Learning Process
Training takes place remotely.
Video lessons are available at any time convenient for you. You receive a link to access the first unit and you can view the lessons any number of times and at any convenient time within the duration of the course;
You will get access to the course review no later than 9:00 (MSC) on the appointed day of the course start.
During the whole term of the course, you receive technical support: notifications, reminders, answers to technical questions, technical assistance.
Video tutorials contain practical tasks.
Some lessons are available only after completing the practical tasks of the previous lessons;
For each lesson of the course, you have the opportunity to consult a teacher on the course feed by attaching a file, a photo or by simply asking a question.
Photograph work for assignments and publish them on the feed of the lesson page under the video.
Complete assignments at any time convenient for you during the course;
The teacher comments on the completed tasks, points out mistakes, approves or asks for work to be resubmitted.
Until the teacher accepts a practical task for some lessons, you cannot continue learning in the next block (stop-lessons are marked accordingly). In extremely exceptional cases, the course administrator can grant you access to the block or the whole course after the treatment;
You communicate with the teacher all the time; he/she will answer all questions. Do not expect the presence of an online teacher permanently.
The teacher has the right not to respond to messages on social networks or through other means of communication, except for a chat on the Artclever platform;
After the course of the educational institution-partner Artclever you get an official certificate (with links to all partners).
In the near future, courses will have subtitles in Russian and English, and an online chat translator.
At the end of the beta testing period, the site will be available in English and in Chinese.
You have the opportunity to extend the access to video lessons for 7 days, without communication with the teachers and without the possibility of sending new works.
Refund Guarantee.
We guarantee a refund at your request. You can claim a refund within 48 hours of the course beginning. If the course is made by Artclever, you need to submit a request for a refund by writing to info@artclever.com. If the course is made in conjunction with a partner, you must contact the administration of the partner institution during business hours.
ATTENTION: the payment system commission is 1 - 5% of the payment amount depending on the method of payment and is not refundable.
Required Materials
Computer and a software program to create presentations (Powerpoint, Keynote, or Photoshop)
Smartphone or tablet
Notebook and a pen
Acrylic paint, brush, and A3 thick paper
Interior design magazines (to create collages)
Decor for creating a composition (you can use the décor you have or buy some new items)
Certificate