Art therapy

The unique program has been designed exclusively for Artclever. In the context of this project, art therapy is viewed as a successful fusion of art and science, and is emblematic of the art+clever portal itself.

Soon

Art therapy

The course is aimed to provide practical insights into how artistic skills and abilities can be applied in daily life, to enhance self-awareness, improve emotional balance, manage stress, foster creative thinking and unleash creative potential.

Soon

Art therapy

The knowledge gained in the course can be used when choosing a future career or for professional development (for example: psychologists, teachers, healthcare workers, educators, motivational trainers, business people, etc.).

Soon
About the course
The knowledge gained in the course can be used when choosing a future career or for professional development (for example: psychologists, teachers, healthcare workers, educators, motivational trainers, business people, etc.). No prior drawing skills are required for this course. There are no age restrictions for the course and it is available to anyone who is inclined to consciously approach the process of creating a work of art.
Why join the course?
The course is aimed to provide practical insights into how artistic skills and abilities can be applied in daily life, to enhance self-awareness, improve emotional balance, manage stress, foster creative thinking and unleash creative potential. The program is designed to be hands-on and experiential, with participants engaging in various experimental art projects. You will also be provided with an overview of the history and principles of Art Therapy, and get a glimpse into the modern practices of art therapy. Furthermore, the program will delve into the neurobiological aspects of creating art.
Lecturer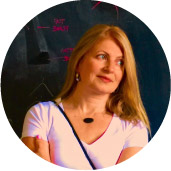 Lyubov Gonina
Lyubov Gonina is a highly experienced art therapist. She earned her undergraduate degree in Painting and Psychology from Portland State University in the USA, and went on to obtain a Master of Arts in Psychotherapy with a specialization in Art Therapy from Marylhurst University in Oregon. Lyubov is a graduate of the Kiev Institute of Arts and Crafts and Design, and has been working as an Art Therapist for the past eight years.
"Throughout the program, you will become familiar with the rich history of Art Therapy, including an overview of its founding theories. You will delve into the contemporary practices and principles of art therapy, gaining a deeper understanding of the neurobiological processes that take place during the creation of art. This comprehensive learning experience will enhance your understanding and appreciation of the field."
Course Program
Introduction

Discussion: Continuum of Art Materials, Continuum of Expressive Therapies (CET)
Art Experiential: Material Exploration and Creating a Personal Scale of Expression

Kinesiology: Connection Between Intellectual (Mind) and Physical (Body)

Discussion: Kinesiology in the Context of Art Therapy and CET
Art Experiential: Spontaneous Drawing

Sensory Integration

Discussion: Jean Ayres' Theory of Sensory Integration
Art Experiential: Multimedia Technique

Perception - Projection and Reality Perception

Discussion: "Smart" Still Life
Art Experiential: Still Life

Affect - Depicting Emotions

Discussion: Intuitive Painting and Catharsis
Art Experiential: Watercolor Abstract Painting

Cognitive Art

Discussion: "Visual Thinking"
Art Experiential: Zentangle, Mandala, Ornament

Symbolic Representation as a Way of Self-Discovery

Discussion: Collage: Multimedia Approach
Art Experiential: Mask

Creativity: Conscious Creativity

Art Experiential: Final Free-Themed Work
Review and Discussion
Learning Process
Enjoy the flexibility of remote learning with our training program. Access the first lessons at any time that works for you and revisit them as many times as needed;
Lessons consist of short lectures and detailed master classes, and include practical tasks. Some lessons are only available after completing the practical tasks from previous lessons;
Lessons include subtitles in Russian and English;
During each lesson, you can interact with the instructor on the course page by submitting files, photos, or asking questions. You can also take pictures of your assignments and post them in the lesson page feed under the video;
For every payment made, a bonus is added to your bonus account;
You are in constant communication with the teacher and receive full support, you will always receive an answer to your questions. The teacher has the discretion to reject a task if deemed necessary;
Complete assignments at a pace that feels comfortable for you and don't rush. Take as much time as you need to complete each task, but keep in mind the final deadline for the course. If you need more time, you can extend the course for free for one week, but without further assistance from the teacher;
All courses offered by Schools and Institutes are officially recognized. Upon completing the course, you will receive a certificate both by email and in the mail sent to the address provided in your account;
A money-back guarantee is provided. You are entitled to a refund if you request it. If the online course lasts for more than 10 calendar days, you have 2 days from the start of the course to request a refund. Please note that the payment system's commission, which ranges from 1-5% of the payment amount and varies based on the payment method, is non-refundable.
Сertificate
We send certificates to graduates anywhere in the world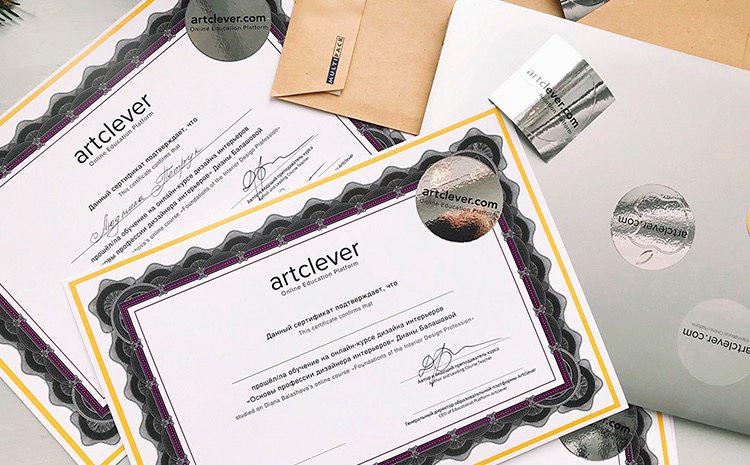 Yukie Nakamura

Director of Sales at Gucci (Tokyo, Japan)

The Art Therapy was wonderful experience, so cozy and relaxed and your course is really interesting, making a part of body with different texture, I think it's my first time did in my life. I draw several times, but making a part is totally different experience. and sharing with friends are even wonderful experience. Luba is amazing instructor, good for relaxing people and giving us more power making art! The experience is I felt I could get back to my childhood pureness through the art session.

Kurumi Conley

Renown Japanese Glass Artist who lived and works in Portland

Luba's art therapy introduces the idea that touching and looking at the material, creating artwork and enjoying the interaction with other participants serves as an effective way to center ones inner balance.

Roslana Lazar

Originally from Bulgaria
Classical Piano School founder in Portland Or. working on completing her degree in Music therapy

My name is Roslana Lazar, and I'm a pianist and piano teacher. My personal interest of doing Art Therapy sessions, experiments etc. is huge.
Knowing Luba Gonina as a person and Art Therapist for my daughter. I saw the growth, and positive transition for my daughter during the time of the work with Luba.
Luba is truly dedicated and involved with Art Therapy, and is so interesting always to talk and be around her, learning for the great ideas and projects she is doing.
I truly believe in her talent and skills for Art Therapy.
This experiment was a great opportunity for me to work in a group, because I always prefer a individual session.
Was very impulsive, creative and truly relaxing for me.
Will love to do it again.
Early Bird Registration!
Leave your email to get – 15% OFF