Course Description
The course provides basic knowledge and skills, technological techniques, creative approach to solving decorative problems, both private and public. Renewal, transformation of the interior elements with the help of surface decoration - a bright trend, optimal approach in design, saving time and finance.
The course program includes short lectures and practical master classes, as well as the application of techniques on real objects: in residential and public premises. The course engages invited experts applying decorating techniques in different professions.
What are your benefits?
The course «Secrets of decoration» focueses on the concept of «subtle matter»: shades, their combinations, materials for decoration of objects, their textures and textures, panels in the interior.
You will implement all the knowledge and skills gained in practise
Objects decoration allows to create unique, personalized interiors without serious interference into the space, with no building materials and contractors. It is for this reason that subject decorators are in demand, for example, in France or Italy, where handmade items are reverent, and the aesthetics of the environment - raised to the absolute.
Lecturer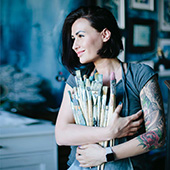 Daria Geiler
Decorator, entrepreneur, creator of line of author's paints for furniture decoration
The personalized brand line of artistic materials for interior decoration includes furniture, walls, ceramic tiles and even floor.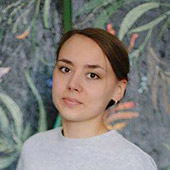 Maria Startseva
Maria Startseva is a decorator, lecturer at the Daria Gailer decoration school. Maris is responsible for managing the partnership department of the brand.
Course Program
Module 1. Introduction to profession

1.1. The fundamentals of the profession «Subject decorator»

1.2. Decorator competences

1.3. Pros and cons of the job

1.4. Workplace and salary

1.5. Interview with the restorer / differences between decorator and restorer job

Module 2: Decoration elements and principles

2.1. Decoration principles

2.2. Trends and personalization in decoration

2.3. Interview with the main artist of the Lenk Theatre

Module 3. Materials and tools for subjects decoration

3.1. Overview of the basic set of materials and tools from a decorator

Module 4: Techniques and special effects in decoration

4.1. Natural wood tinting

4.2. Patina with colored wax

4.3. Shabby chic «Victorian romance»

4.4. Artificial wood and bark

4.5. Dry brush dusting

4.6. Iron oxidation

4.7. Copper oxidation

4.8. Gilding

4.9. Krakelure cracking

4.10. Concrete imitation

4.11. Stone imitation

4.12. Stencil

4.14. Gradient on textile lampshade

4.15. Flexible clay decor

4.16. Coffee to imitate aging

4.17. Mirrored mosaic on a tray

4.18. Old boat board

4.19. Watercolor equipment

4.20. Drawing implantation

4.21. Direct decoupage

4.22. Aged Mirror

4.23. Transfer the image to the surface

4.24. Painting with no drawing skills

4.25. Scratching technique «Grottage»

4.26. Frottage Technique

4.27. Creation of a wall panel «Whale»

4.28. Stained glass

4.29. Clay cast

4.30. Barn board technique

4.31 Abstract painting with epoxy resin

Module 5. Composition and colors

5.1. Laws and means of harmonization

5.2. Color and light theory

5.3. Color temperature

5.4. How to choose an interior object color

5.5. «Behavior» of color in spatial composition, «deception»

5.6. Principles of the psychology of perception of visual information

Module 6. Interior design

6.1. Interview with a representative of a well-known brand of furniture and interior items

6.2. Stylization and transformation of real objects into decorative forms

6.3. Decorative techniques of creating modern interiors of different styles and directions

Module 7. Review of materials, technologies for interior decoration

7.1. Interview with the creative director of the textile festival

7.2. Practical skill in combining techniques for furniture and textile decorating

7.3. Master class on painting «Furniture + textiles»

7.4. Recommendations for tracking trends, local and international exhibitions

Module 8. Interaction with a customer

8.1. Concept Board

8.2. Collage drafting

8.3. Interview with an architect

Module 9. Decorator's personality

9.1. Customer focus VS customer support

9.2. Professional verbal and written communication

9.3. Deadlines and business process management

9.4. Independent Financial Management (Registration of EI/Self-employment)

9.5. Professional development

9.6. Self-employment

Module 10. Promotion and portfolio

10.1. Business website

10.2. Social media/p>

10.3. References and reviews

10.4. Demonstration objects

10.5. Recommendations for promotion without budget and using paid advertising

Module 11. Decoration in interior project

11.1. Real project implementation for residential and public premises

11.2. Departure to the object and decor of furniture items and surfaces

11.3. Interview - the repainted old kitchen and stairs in the house

Module 12. Final task — object decoration
Learning Process
Training takes place remotely. Video lessons are available at any time convenient for you. You receive a link to access the first unit and you can view the lessons any number of times and at any convenient time within the duration of the course;
You will get access to the course review no later than 9:00 (MSC) on the appointed day of the course start.
During the whole term of the course, you receive technical support: notifications, reminders, answers to technical questions, technical assistance.
Video tutorials contain practical tasks. Some lessons are available only after completing the practical tasks of the previous lessons;
For each lesson of the course, you have the opportunity to consult a teacher on the course feed by attaching a file, a photo or by simply asking a question. Photograph work for assignments and publish them on the feed of the lesson page under the video.
Complete assignments at any time convenient for you during the course;
The teacher comments on the completed tasks, points out mistakes, approves or asks for work to be resubmitted. Until the teacher accepts a practical task for some lessons, you cannot continue learning in the next block (stop-lessons are marked accordingly). In extremely exceptional cases, the course administrator can grant you access to the block or the whole course after the treatment;
You communicate with the teacher all the time; he/she will answer all questions. Do not expect the presence of an online teacher permanently.
The teacher has the right not to respond to messages on social networks or through other means of communication, except for a chat on the Artclever platform;
After the course of the educational institution-partner Artclever you get an official certificate (with links to all partners).
In the near future, courses will have subtitles in Russian and English, and an online chat translator.
At the end of the beta testing period, the site will be available in English and in Chinese.
You have the opportunity to extend the access to video lessons for 7 days, without communication with the teachers and without the possibility of sending new works.
Refund guarantee.
We guarantee a refund at your request. You can claim a refund within 48 hours of the course beginning. If the course is made by Artclever, you need to submit a request for a refund by writing to info@artclever.com. If the course is made in conjunction with a partner, you must contact the administration of the partner institution during business hours.
ATTENTION: the payment system commission is 1 - 5% of the payment amount depending on the method of payment and is not refundable.
Certificate
Worldwide delivery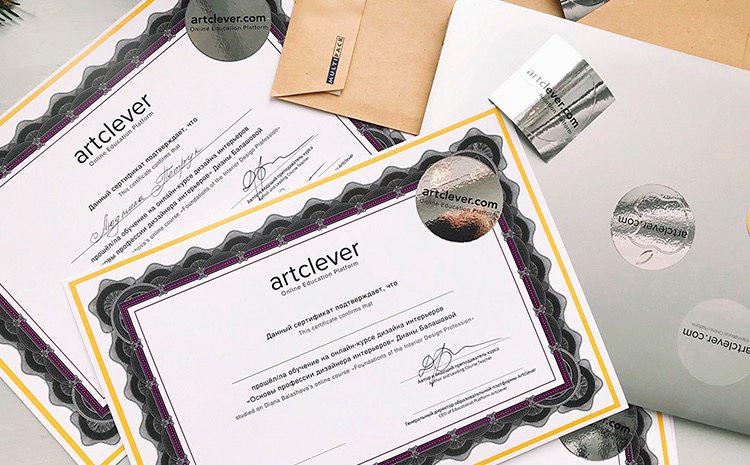 Required Materils
Меловые Краски или Краски для мебели на основе минеральных добавок (мрамор, мел)
Кисти плоские, круглые из натуральной Щетины или синтетические
Ткань безворсовая
Шпатель
Паста для объемного декора / штукатурка для стен
Трафареты
Финиши: воски, лак матовый, лак глянцевый
Жидкие металлы
Окислители для жидких металлов
Глина для лепного декора
Молды
Лепной декор: из пульпы, полиуретана, дерева (на выбор)
Наждачная бумага 60 Грит и 120-160 грит
Губка для мытья посуды
Кисти художественные разной толщины
Поталь золото, фольга
Клей для Потали или лак
Кракелюр двухфазный
Кельма
Щетка для брашировки древесины
Всем записавшимся на курс, доступна скидка 15% на материалы для декорирования. Промокод на скидку отправляется в уведомлении после оплаты курса.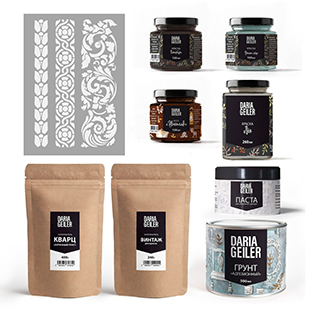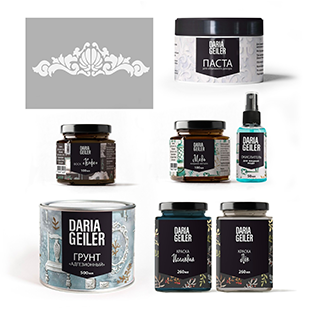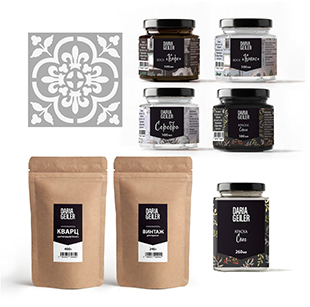 Works check: Daria Geiler and Maria Startseva