About this course
'Building a Fashion Brand' — is the author's program of the Russian fashion designer Luda Nikishina, based on her own long-term successful experience.
The program focuses on key themes of brand building in today's fashion industry.
We invite young designers, entrepreneurs, specialists to study the production process, promotion, retail and networking.
Within the course you will visit the main textile exhibition, one of the biggest russian clothing manufacturer and learn how to find a business partners. Luda will show the work process of her fashion studio, so you can learn insights of her team. You will have an opportunity to meet and have a talk with bayer, magazine editor and fashion blogger. One day will be fully devoted to photo-shooting.
The Teacher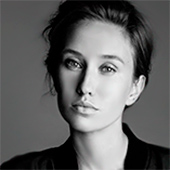 Luda Nikishina
Luda Nikishina is a fashion designer and «Luda Nikishina» brand owner. Graduated from the HSE Management Faculty and the College with a degree in Clothes Design in 2009.
The same year brand «Luda Nikishina» was launched and represented at the international exhibition «Pitti Super» in Milano.
There is a showroom and brand office in Moscow, where the collection is designed and produced. Wool, silk made coats, dresses tailored by Luda's own temples. The brand also represented in Europe and Japan.

'I built my program so that you can went with me through all stages of brand building and then do it by yourself. I really understand what feel the person, who stands at the very beginning of brand building. That's why I frankly share with you my 9 years professional experience.

For me the course success is that you create your brand concept and philosophy, the real business plan that you start to implement already within the the course.'
Course Content
1. Production

1.1. The material selection. Confectioning. Fabric market overview. Visit to fabric exhibition. (Home task)

1.2. Design. Design methods: manual design, the system of automatic design. Profession of a designer. Design bureau. Patterns making. Talk with the designer. (Home task)

1.3. Sewing. The process of creating clothes. The main stages: cutting, duplicating, basting, fitting, sewing on operations, wet-heat treatment

1.4. Communication with the contractors. Advantages and disadvantages of outsourcing and own production. Working experience with different production companies. Work stages: image development, specification, quality control.

2. Clothes model development

2.1. Trends. Long-term and short-term trends. Forecasting. (Home task)

2.2. Making your Style (Home Task)

2.3. Seasonality. Collection concept. Cycles of a modern fashion.

2.4. Moodboard

2.5. Sketch. Artistic sketch. Technical drawing. (Home task)

3. Marketing

3.1. Price formation. Price segments. The mark up. Wholesale and retail prices. Discounts

3.2. Distribution. Own sales channels. Wholesale. The line sheet. Online and offline sales. Interview with fashion buyer. (Home task)

3.3. Product. Assortment planning. Size charts. GOST. Packaging. Warranty

3.4. Promotion 1: shooting. The photo shooting concept. Casting. How to select and repair photos. Participation in a photo shooting. (Home task)

3.5. Promotion 2: promotion channels Meeting with fashion blogger. Meeting with fashion magazine editor

4. Financial planning

4.1. Accounting,tax issues, the legal nuances. Trademark registration

4.2. Control of costs and revenues, business planning. (Home task)

The final workshop is a step-by-step instruction for creating a brand of clothing.
How we teach online
1. Training takes place remotely. Video lessons are available at any time convenient for you in your Personal Account on artclever.com

2. You get access on the appointed day of your course start

3. During the whole term of the course, you receive technical support: notifications, reminders, answers to technical questions, technical assistance

4. Video tutorials contain practical tasks. Some lessons are available only after completing the practical tasks of the previous lessons (stop-lesson)

5. For each lesson of the course, you have the opportunity to consult a teacher on the course feed by attaching a file, a photo or by simply asking a question. Just publish the picture of your work on the feed of the lesson page under the video on artclever.com

6. Complete assignments at any time convenient for you during the course. Your teacher comments on the completed tasks, points out mistakes, approves or asks for work to be resubmitted. You communicate with the teacher all the time; he/she will answer all questions. Do not expect the presence of an online teacher permanently

7. The teacher has the right not to respond to messages on social networks or through other means of communication, except for a chat on artclever.com

8. You get an official Artclever certificate if your learning was successful (it is depends of course terms)

9. In the near future, courses will have subtitles in Russian and English, and an online chat translator. The site will be available in Chinese language soon

10. You have the opportunity to extend the access to video lessons for 7 days for free, without communication with the teachers and without the possibility of sending new works

Refund guarantee. We guarantee a refund at your request. You can claim a refund within 48 hours of the course beginning. If the course is made by Artclever, you need to submit a request for a refund by writing to info@artclever.com. If the course is made in conjunction with a partner, you must contact the administration of the partner institution during business hours. ATTENTION: the payment system commission is 1 — 5% of the payment amount depending on the method of payment and is not refundable.
Certificate
We send certificates to graduates anywhere in the world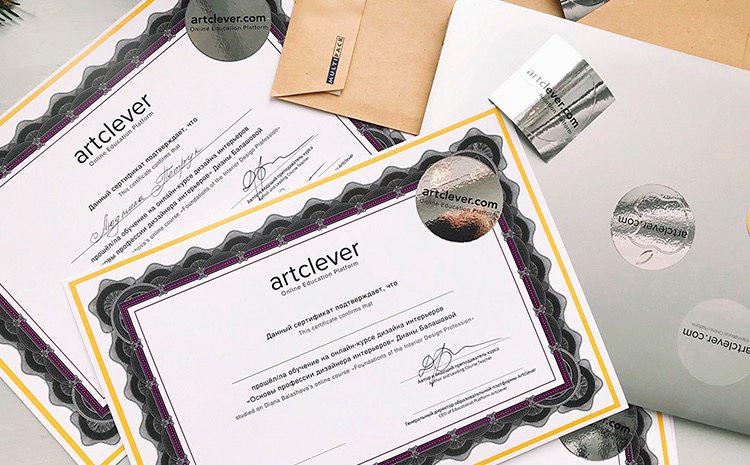 Course curator Luda Nikishina

;